Volunteer
---
Programme Assistant
Are you passionate about the arts, enjoy working with a wide range of people, and are interested in developing your skills in delivering workshops, events and marketing? We're looking for an enthusiastic, creative and friendly individual to support the delivery of our visual art programme. The role will support events, workshops and exhibitions, working with our team to deliver activities to creatives, young people and families. This is a great opportunity to develop skills in an artist-led organisation.

Apply
---
Volunteer with us
We're recruiting new volunteers. Come and join our team as a volunteer Programme Assistant. The voluntary role will run from January - June 2023. At a minimum, we recommend that volunteers attend a 4-hour shift every week to build their experience and meaningfully contribute to the organisation. Shifts will take place between Thursday-Saturday. Further voluntary hours may be available.

The application deadline is 5pm Friday, 24th November 2023. Applicants may be invited to an informal, in-person conversation with our team at the gallery on Friday 8th December 2023. Get in touch for more information. If you have any additional requirements to support your application please let us know.
---
"Who are you looking for?"
Individuals who have:

Excellent communication and interpersonal skills

An interest in contemporary visual arts
An interest in working with the public

Enthusiasm for engaging participants in art activities

Strong teamwork ethic

Good time management

Willingness to undertake a DBS check

Willingness to partake in safeguarding training



We welcome applications from all individuals for roles that align with their skills and interests. We encourage applicants who are:

from Global majority backgrounds

members of the LGBTQ+ community

people with disabilities

do not have any formal art education
---
Caitlin Binks
---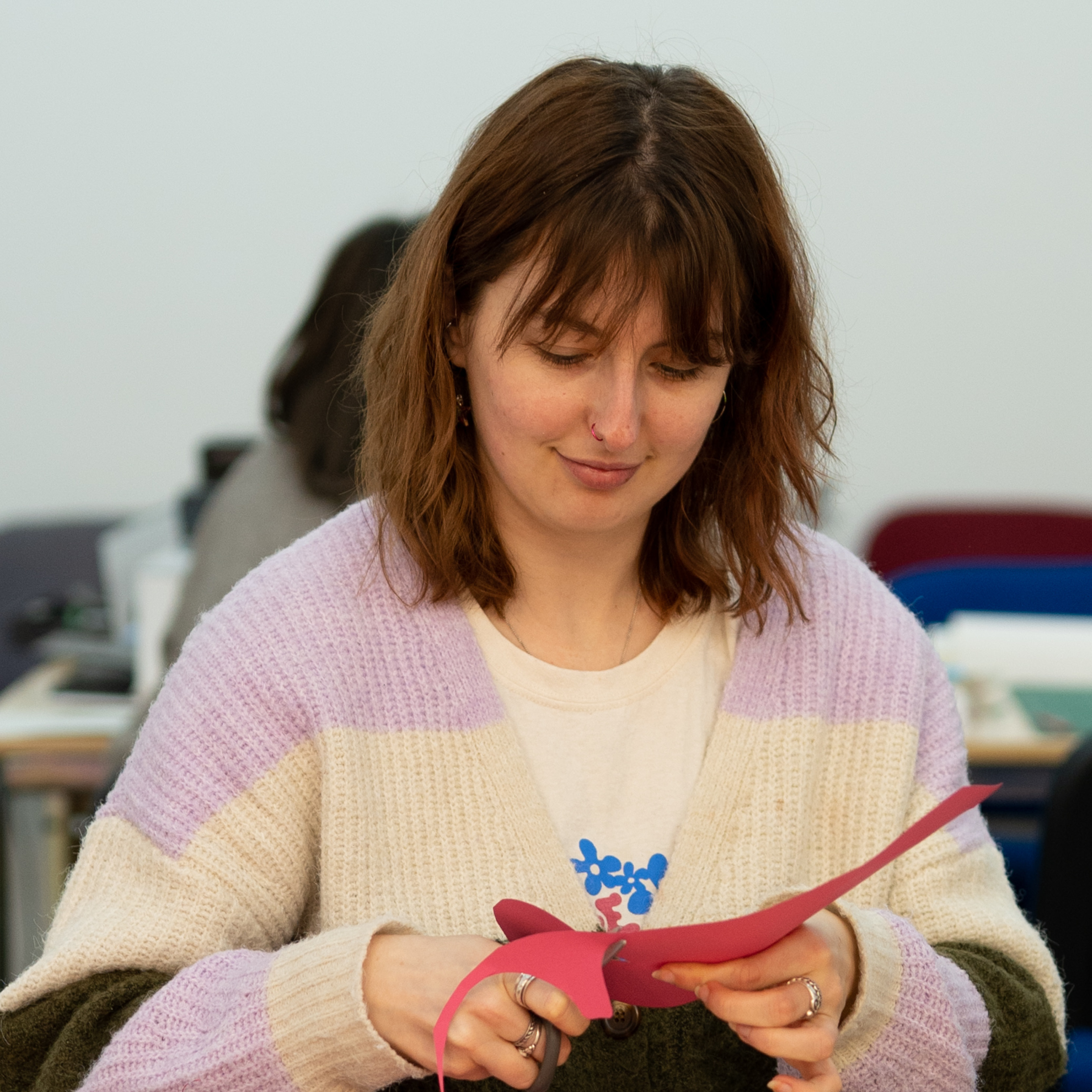 "I applied to volunteer with Modern Painters, New Decorators during my graduate artist residency year to gain some real-life experience and skills in working in the arts. I ended up gaining more than I expected."
I've done many new things this year, like facilitating workshops with the public, safeguarding training, installing shows and working behind the scenes in the gallery. Outside of the gallery, I've also been able to experience being part of a community and team of professional artists who have shared their knowledge with me and helped me to grow as an artist. The support and community feel of working at Modern Painters, New Decorators has helped me through my residency. I've achieved things I probably wouldn't have had I not been part of this team. I feel much more prepared to leave the university bubble and pursue a career in the arts after the experience and confidence I've gained at Modern Painters, New Decorators!
I feel more sure of my skills as an artist and have confidence in myself to do things I wouldn't have even considered last year. My favourite part of volunteering has been improving my workshop facilitating and installation/DIY skills, which have benefitted me in my practice. In short, I've loved my time here, and I'm sad it's time to leave!
---
Issie Martin
---
"Every time I come in, it's a surprise what I'll be doing - painting and wallpapering, planning sessions or making together - so I've learnt more skills than I could have imagined when I applied or through studying!"
I've had the loveliest time volunteering for Modern Painters, New Decorators! Starting just over a year ago (in the first year of my degree), helping with the Family Workshops and Art Club, my confidence in leading activities and inputting to conversations surrounding the exhibitions/programme has grown so much. Being involved in developing 'Our Common Mercies' made me appreciate having creative support and conversations outside of the university and allowed me to expand my understanding of possibilities post-degree. Collaborating with the team and exhibiting my work within Loughborough has been so fulfilling - often leaving a day of volunteering with a massive grin - I couldn't recommend it more and will miss this so much!
---
© 2022 Modern Painters, New Decorators